Phonics PPT Collection - 156 Subjects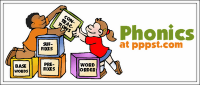 Author(s): SuAnn Dixon
Publisher: Houston County Schools
Quantity: 156 files
Size: 55 Mb
Format: .ppt (PowerPoint Presentation)
Quality: High
Language: American English
Description:
The phonics power point presentation is suitable for teacher training sessions.
Dixon Style Phonics
SuAnn Dixon, educational technology specialist at Stowers Elementary at Fort Benning, Georgia, has graciously agreed to let us post her phonics PowerPoint presentations. Feel free to use them in your classroom.
The Phonics PPT Collection features topics:
• 3 Letter Consonant Clusters
• Beginning Sounds
• Consonant Digraphs -wh, -ch, -sh, -th
• Dolch basic sight words
• Ending Sounds
• High Frequency Words
• L blends
• Long Vowels
• Picture Words and Sentences–blends -bl, -br, -cl, -dr, -pr, -sl, -tr, etc.
• Picture Words and Sentences–digraphs -ch, -sh, -th, -wh
• Picture Words and Sentences–long vowels
• Picture Words and Sentences–short vowels
• R Blends
• Rhyming Words
• S Blends
• Short Vowels
• Spell the Words–CVC
• Spell the Words–short vowels–4 & 5 letters
• Spelling Sound Pattern -ab, -ad, -ed, -id, -ob, -ade, etc.
• Vowel Digraphs -ai, -au, -ea, -ee, -ew, -ie, -oa, -oo, -ou, etc.
• Word Family -ug, -ack, -ad, -ag, -all, -an, -ap, -at, -ub, -un, etc.
Code:


http://www.mediafire.com/?y44p3e4neme6co4
Password to Unlock Mediafire Link:
elib.forumvi.net

____________________________________________________________________
Website Support Download Files on Forum with Premium Speed >>Click
Get a Premium FileServe account- SUPER FAST downloads and no waiting for files!
---
Permissions in this forum:
You
cannot
reply to topics in this forum