Please sharing for your Friends, If these information is useful!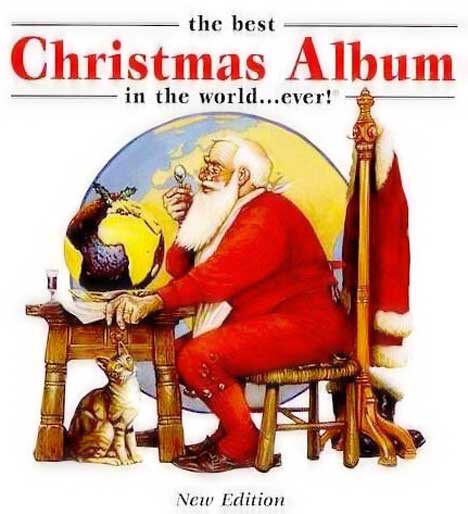 MP3; 3CDs; 134.76MbDescription:
A good Christmas compilation should contain the following things–a selection of old classics to warm your hearts by the fireside, some of the classic pop titles that people always seem to find themselves singing along to in the pub on Christmas Eve, some carols and a handful of oddities to keep everyone on their toes. The Best Christmas Album in the World Ever manages to fulfil all these criteria–on the classic front there is Bing Crosby's "White Christmas" and Dean Martin's "Let It Snow, Let It Snow, Let It Snow", on the classic pop front there's Slade's "Merry Christmas Everybody" and Wizzard's "I Wish It Could Be Christmas Everyday", traditional carols "Silent Night" and "God Rest Ye Merry Gentlemen" head the field and as far as oddities go, look no further than the double whammy of "Lonely Pup (In A Christmas Shop)", courtesy of Adam Faith, and "Angels" by Robbie Williams (a pretty tenuous inclusion, especially considering the angel in the title is his mum). All in all, small gripes aside, The Best Christmas Album In The World Ever manages to live up to it.
CD 1
[3:36] 01. Happy Xmas (War Is Over) [John & Yoko]
[3:49] 02. Wonderful Christmastime [Paul McCartney]
[4:42] 03. I Wish It Could Be Christmas Everyday [Wizzard]
[3:46] 04. Merry Christmas Everybody [Slade]
[3:44] 05. Do They Know It's Christmas [Band Aid]
[3:34] 06. I Believe in Father Christmas [Greg Lake]
[4:05] 07. A Spaceman Came Travelling [Chris De Burgh]
[5:30] 08. The Power of Love [Frankie Goes to Hollywood]
[4:28] 09. Angels [Robbie Williams]
[3:43] 10. Baby, It's Cold Outside [Tom Jones with Cerys From Catatonia]
[4:53] 11. Saviour's Day [Cliff Richard]
[4:13] 12. Step Into Christmas [Elton John]
[3:22] 13. Sleigh Ride [Spice Girls]
[2:01] 14. Little Saint Nick [Beach Boys]
[2:23] 15. Santa Claus Is Coming to Town [Jackson 5]
[2:53] 16. In Dulci Jubilo [Mike Oldfield]
[2:57] 17. Stop the Cavalry [Jona Lewie]
[5:23] 18. Christmas Wrapping [Waitresses]
[3:47] 19. Ring Out, Solstice Bells [Jethro Tull]
[4:39] 20. The Millennium Prayer [Cliff Richard] (Sample)
CD 2
[3:09] 01. White Christmas [Bing Crosby]
[3:13] 02. The Christmas Song [Nat 'King' Cole]
[1:58] 03. Let It Snow, Let It Snow, Let It Snow [Dean Martin]
[3:22] 04. Mary's Boy Child [Matt Monro]
[3:55] 05. Mistletoe and Wine [Cliff Richard]
[3:27] 06. Walking in the Air [Aled Jones]
[1:56] 07. Winter Wonderland [Peggy Lee]
[1:49] 08. Lonely Pup (In a Christmas Shop) [Adam Faith]
[3:36] 09. Rockin' Around the Christmas Tree [Mel & Kim]
[3:46] 10. Last Christmas [State of the Heart]
[4:02] 11. Little Town [Cliff Richard]
[2:20] 12. Frosty the Snowman [Nat 'King' Cole] (Sample)
[2:17] 13. Rudolph the Red Nosed Reindeer [Dean Martin]
[3:35] 14. Lonely This Christmas [Mud]
[1:28] 15. God Rest Ye Merry Gentlemen [Ella Fitzgerald]
[1:43] 16. Deck the Halls [treorchy, Morriston Orpheus & Pontarddulais Male Choirs with the Band of the Welsh Guards]
[3:34] 17. Have Yourself a Merry Little Christmas [Jane McDonald]
[2:29] 18. We Wish You a Merry Christmas [The Weavers]
[3:55] 19. The Twelve Days of Christmas [The Spinners]
[2:27] 20. Gaudete [Steeleye Span]
[3:45] 21. Silent Night, Holy Night [Sinead O'Connor]
[2:24] 22. In the Bleak Midwinter [Bert Jansch]
[2:40] 23. Peace on Earth and Little Drummer Boy [David Bowie and Bing Crosby]
[3:11] 24. What Are You Doing New Year's Eve [Mary Margaret O'Hara (Frank Loesser)]
Code:

Server to Leech (Download file - If can't leech, Please comeback later! Thanks!)>>> http://max-speed.us/tgh/index.php
Password to login Server: tgh
http://www.fileserve.com/file/8aBJkq9

____________________________________________________________________
Website Support Download Files on Forum with Premium Speed >>Click
Get a Premium FileServe account- SUPER FAST downloads and no waiting for files!
---
Permissions in this forum:
You
cannot
reply to topics in this forum